In-product Notifications
Notifications are only visible to admins.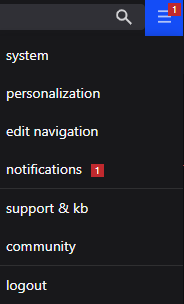 Dashboard Server will periodically check for new notifications, which are visible from the top right-hand menu ☰ either via notifications or under system -> notifications. Notifications have different severity levels from informational (such as a new product release) to critical (e.g. license expiry).
Some notifications may include a link to further information (which you can access by clicking on the notification).

Dismissing Notifications
Most notifications can be dismissed using the cross in the top-right corner of the notification. Once a notification has been dismissed it will no longer appear for any user, but can be viewed in the Dismissed Notifications area under system -> notifications.
However, some notifications are 'sticky', meaning they can't be dismissed and will only disappear once the issue has been resolved (sticky notifications have their cross icon replaced with a pin). For example, you may see a notification indicating there is a problem with your High Availability setup - once the issue is resolved the notification will be automatically dismissed.